TECO was established in 1990 by a product takeover from the company LRE medical technology, Munich. In the last 20 years, the company grew constantly every year with new developments and new distribution partners. The company distributes its products worldwide in more than 60 countries and additionally through well-known OEM (private label) partners.

In the beginning, TECO started mainly with two instruments:
the Coatron JR., a manual 2-channel coagulometer, which was successfully produced and sold worldwide, also as OEM product for Instrumentation Laboratory, USA under the brandname "MCL-2".
the Coatron F2, a semi-automated coagulometer with automatic pipettors, is mainly produced and sold through SIGMA, USA under the brand name "AccuStasis 5000".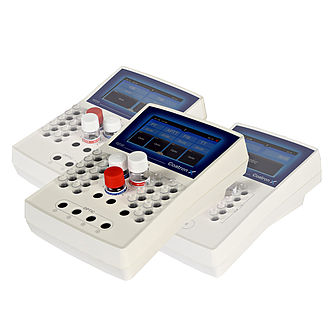 Complete range of Coagulation Analysis with the highest standard and reliability. The new generation of Coagulation instruments with optical detection are here.
Test: PT, APTT, TT, FIB, D-Dimer
For small and mediate laboratory requirements. Concept is suitable for daily routine work in Coagulation laboratories and hospitals.
Three different versions available, depending on number of per day.
Coatron X
Eco
Pro
Top
General
Dimensions
230 x 148 x 94 mm (l, b, h)
Display
Colored Touch Display 4,3"
Pre-warm temperature
37°C
Pre-warm cuvettes (pcs.)
10
20
20
Pre-warm reagent 24mm (pcs.)
1
1
1
Pre-warm reagent 22mm (pcs.)
2
2
2
Pre-warm reagent 11mm (pcs.)
2
2
2
Reagent mixing position
–
1
1
Power values
110-240Vac, 50-60Hz / 5Vdc, 3,3A
Interfaces
RS232 (2x)
Printer, Barcode reader
USB (2x)
Network, Firmware update
Bluetooth
TECO Cloud, App
Optic / tests
Optic channels
1
2
4
Wavelength (nm)
620 (red)
405 (UV)
405 (UV)
Global Coag. tests
PT, APTT, TT, FIB
Specific Coag. tests
–
individual factors
Chromogenic Coag. tests
–
AT, PC
Latex based tests
D-Dimer
Whole blood tests
PT-B
–