ARKRAY is a leading company in the clinical testing market. Established in 1960 in Japan, where it has its headquarters, since more than 60 years it undertakes all phases: from R&D to production up to sales and marketing and customer service.
Its products, distributed worldwide, include Glucometers, Glycohemoglobin analyzers, urine test analyzers and bio chemical analyzers using dry chemistry technology. They are aimed to laboratories, hospital labs, clinics, animal hospitals and more.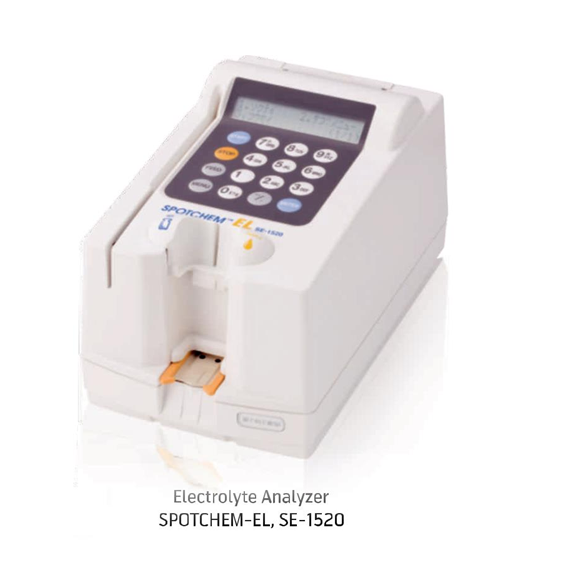 SPOTCHEM EL is an electrolyte analysis system with capacity for total electrolyte analysis requirements in all fields.
Whole blood, serum, and plasma can be measured with 22 μl
Easy calibration can be completed with a magnetic card
Na, K, Cl are measured at the same time on the same E-Plate
Sample
Whole blood, Serum, Plasma
Measurement item
Na+, K+, Cl−
Measurement principle
Potentiometric method with ion selective electrodes
Measurement time
Approx. 1 minute
Consumed sample
22 μL
Sample supply
Manual pipetting by twin pipette
Display
LCD (20 characters × 2 lines)
Built-in printer
36-character thermal printer (Paper width: 58 mm)
External output
RS-232C interface (serial)
Memory
50 measurements
Measurement conditions
Temperature: 10-30 °C,
Humidity: 20-80 % RH (Non-condensing)
Power supply
AC100-240 V (Main power supply voltage variation must be within ±10%), 50/60 Hz
Power consumption
40 VA
Dimensions and weight
Dimensions: 135 (W) × 225 (D) × 138 (H) mm
Weight: Approx 1.5 kg (Analyzer only)