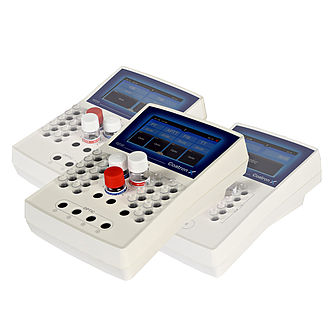 Complete range of Coagulation Analysis with the highest standard and reliability. The new generation of Coagulation instruments with optical detection are here.
Test: PT, APTT, TT, FIB, D-Dimer
For small and mediate laboratory requirements. Concept is suitable for daily routine work in Coagulation laboratories and hospitals.
Three different versions available, depending on number of per day.
Coatron X
Eco
Pro
Top
General
Dimensions
230 x 148 x 94 mm (l, b, h)
Display
Colored Touch Display 4,3"
Pre-warm temperature
37°C
Pre-warm cuvettes (pcs.)
10
20
20
Pre-warm reagent 24mm (pcs.)
1
1
1
Pre-warm reagent 22mm (pcs.)
2
2
2
Pre-warm reagent 11mm (pcs.)
2
2
2
Reagent mixing position
–
1
1
Power values
110-240Vac, 50-60Hz / 5Vdc, 3,3A
Interfaces
RS232 (2x)
Printer, Barcode reader
USB (2x)
Network, Firmware update
Bluetooth
TECO Cloud, App
Optic / tests
Optic channels
1
2
4
Wavelength (nm)
620 (red)
405 (UV)
405 (UV)
Global Coag. tests
PT, APTT, TT, FIB
Specific Coag. tests
–
individual factors
Chromogenic Coag. tests
–
AT, PC
Latex based tests
D-Dimer
Whole blood tests
PT-B
–