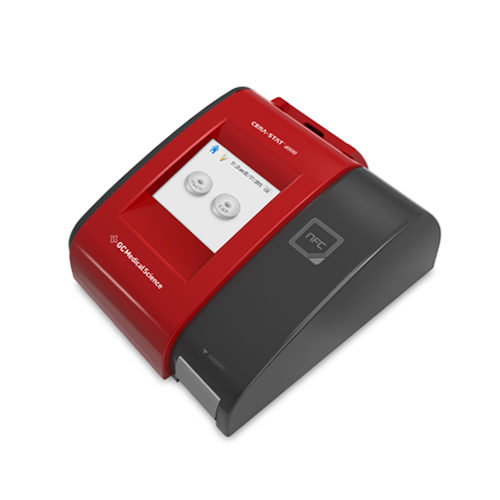 HbA1c / CRP Analyzer
Model No. CS 4000
This is a manual type of analyzer for measuring HbA1c, CRP, and U-Albumin by analyzing the intensity of light reflected from the measurement area, and it is an in vitro diagnostic device that is used professionally in hospitals and clinical laboratories.
Touch Screen high resolution, full color LCD touch screen. Easy access to operation.
Eliminates erroneous results by simple cartridge insert on auto-loading tray.
Voice guide, easy access with simple GUI and clear multilingual voice guide.
IT Connectivity through USB/RS-232C and update software
Quality Management with easy quality control solutions.
No need to buy a printer already have a built -in-thermal printer  
Retrieve patient ID(PID) and operation ID (OID) with key-in and bar code scanner. 
R1 Incubation

R1 Mixture dropping

R2 Dropping
Insert the test device